My brain has been reeling for a week for this topic, it was admittedly difficult to choose out of my top favorites for this post. I went back and forth between Night Fairy Fantasia, Fragrent Rose Memories, Tea Time Nostalgia, and Black Cat, Witch, and the Apple Tree, they are all such lovely pieces and I feel I simply can not compare when looking through my wardrobe at my other dresses (which I still find immensely gorgeous as well). In the end I did choose a favorite I hadn't initially thought of, Garden Fairy from Triple Fortune.
The way this jsk makes me feel when I put it on is beyond words. It fits me well and it does indeed make me feel like a fairy princess. It's also very special to me for more then just it's look. I choose a Triple Fortune bonnet and tights to accompany the look, it only seemed fitting at this point. The next thing I've added are my Alice and the Pirates double buckle shoes and a blouse and jabot I made a few years ago. I was going to pair an Alice and the Pirates blouse but it seems to be in the wash.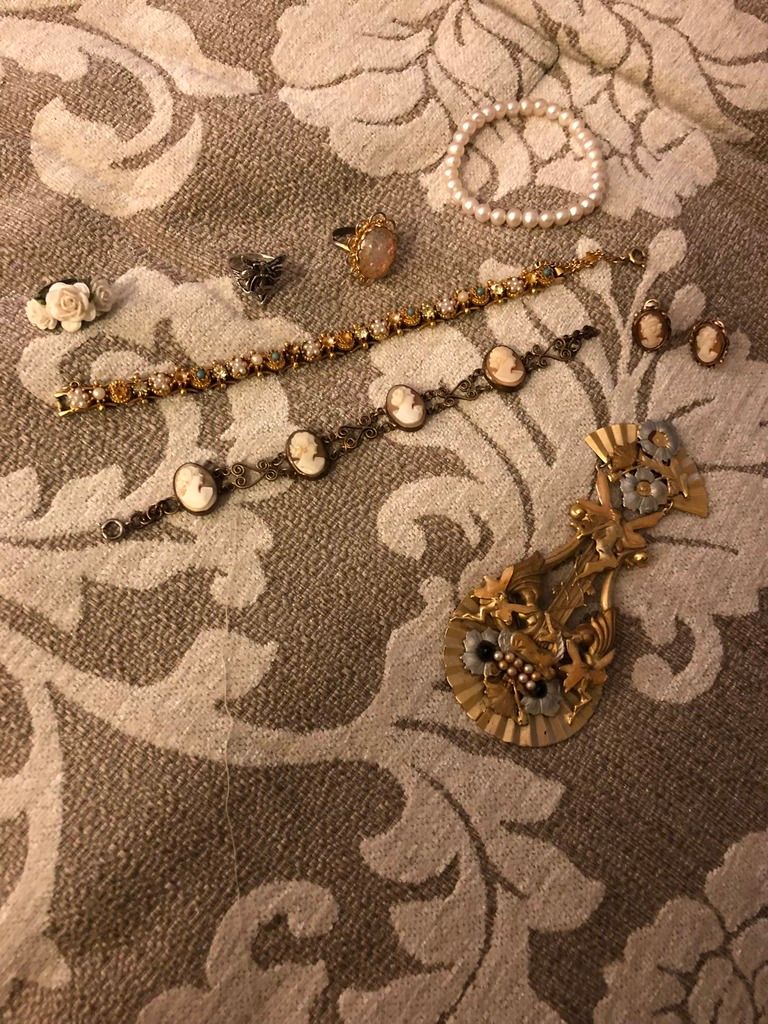 I wanted to add a bit of jewelry that would not be too costume~y for the piece and tried to go with antique and vintage pieces that would complement the coord. I have this amazing Czech piece that has fairies imbedded in the design that I fashioned into a pin, I thought it would look nice placed below one of the bows or in the center of the bust, but because of the lighting I was worried it wouldn't be picked up. I also added a newer piece from
Puvithel
and I have to tell you, the flower rings are all made by hand, very delicate, I need them in every color she makes them in. These things are gorgeous and I have 4 and I have been wearing them with many of my coordinates. Check out her shop, you will not be disappointed with any of her items.
I think I like the look of what I came out with for this weeks Lolita Blog Carnival post, I hope you've enjoyed it. I highly suggest checking out what everyone else put together for this coordination challenge, I know I did.