As luck would have it I have just the right pieces to compare for this post, one of my oldest pieces and my newest released piece both happen to be Metamorphose. Initially I was just going through my wardrobe for a previous post to see which of my oldest pieces would be best to photograph for a prompt for the 365 Lifestyle Lolita Challenge, here, and I had three that fell into that category from 2006. When I was going back to those pieces and my newest I realized that there was a Meta piece in both, both also happen to be drastically different in style.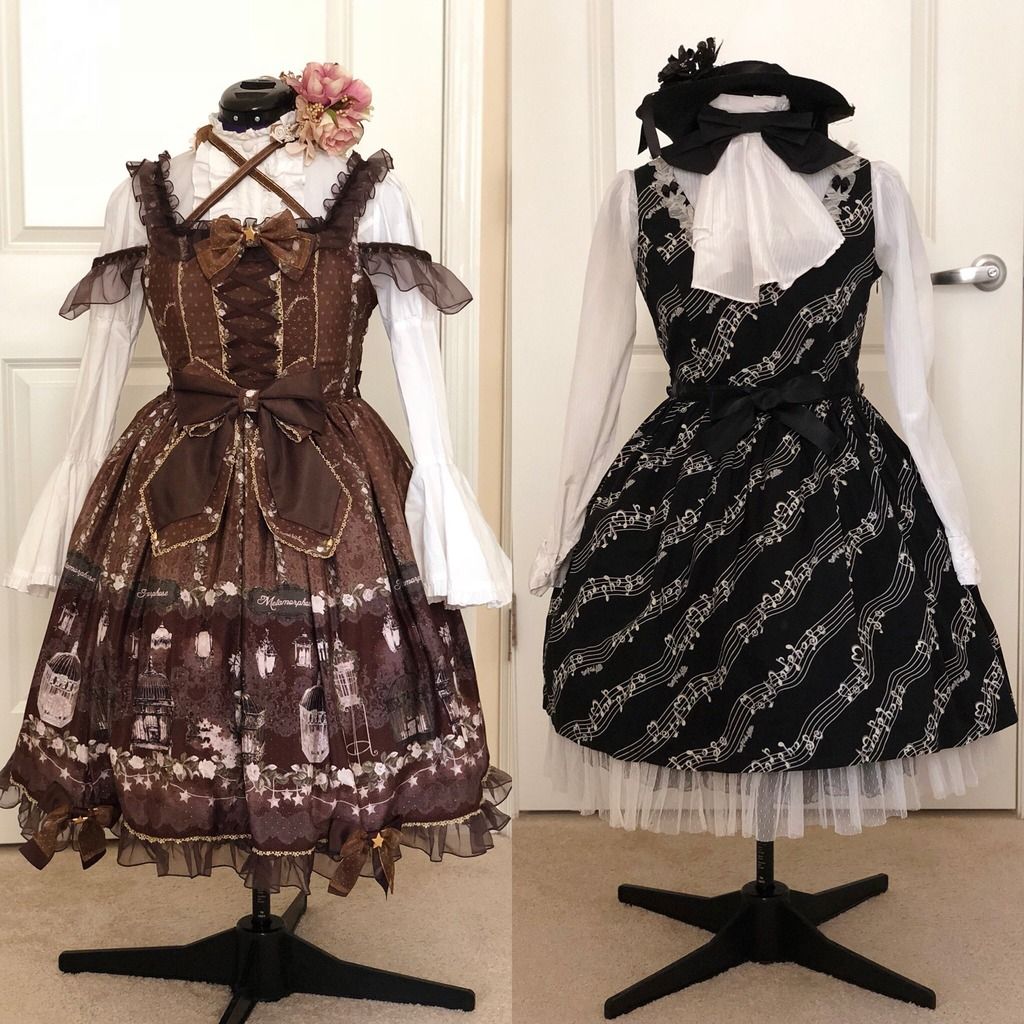 The pieces I have are Star Rose Ribbon jsk (2018) and Music Note Bustle Back jsk (2006) so there is a good twelve years between the two garments. The material that Meta has been using lately has deviated greatly from Lolita fashion's origjnal "cotton is best" guideline that the Music Note jsk is made of, Star Rose is made of a polyester chiffon (gasp!).
FUN FACT: the music note motif in the jsk I am writing about has been reused in one of the newer prints, Band in the Forest.
Based on the appearance alone they are drastically different but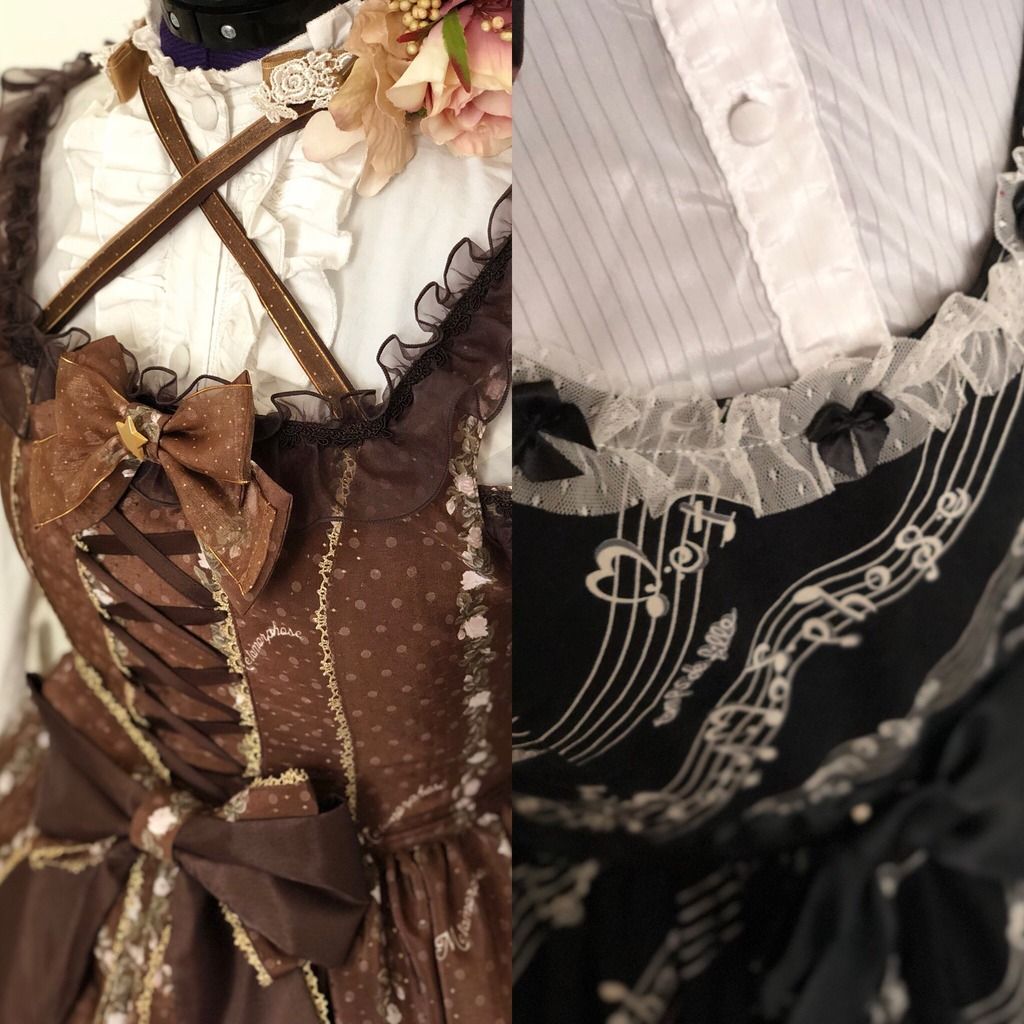 One of my favorite things about both jsks is the embellishments at the necklines of both garments. A delicate ruffle is sewn in to give the design a little extra something a detail Meta has done a lot throughout the years, usually in a material different than the main fabric. The cuts of the bodice does vary one with a front panel the other with a princess cut, something that is more a variation from garment to garment over the years and not a major cement change.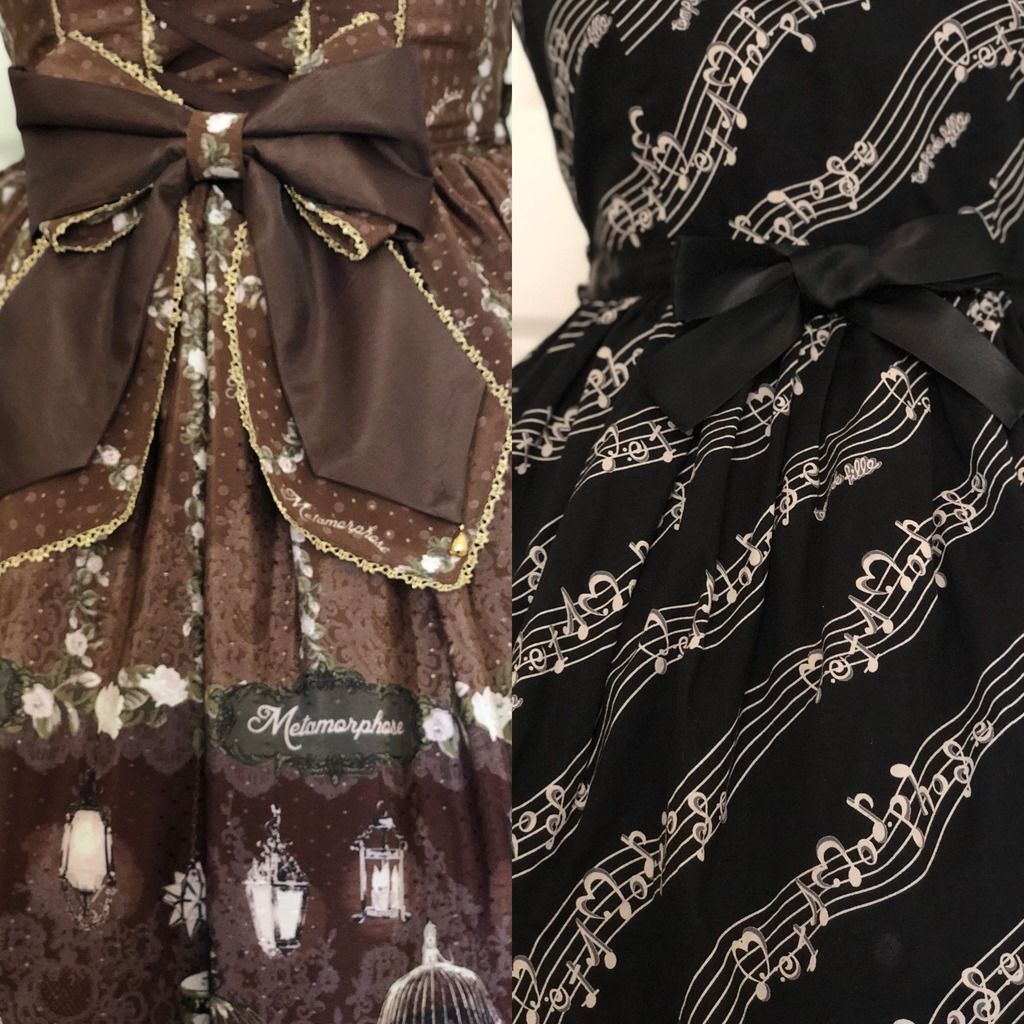 Meta has had a history of making pin back bows - Star Rose Ribbon has one for the back as well, which I'll cover last - and this is another example that appears in both pieces, the difference though is the style. Star Rose Ribbon has this gorgeous, large, double layered bow that also has little charms at the bottoms.
Music note bustle jsk has a simple black waist and matching ribbon, the back is another pin back of course, breaking up the busy, but consistent, pattern. I've enjoyed this bow in more than just this piece, attaching it to collars to finish a look, its very versatile. The bow is just enough and plays well with the little bows at the neckline.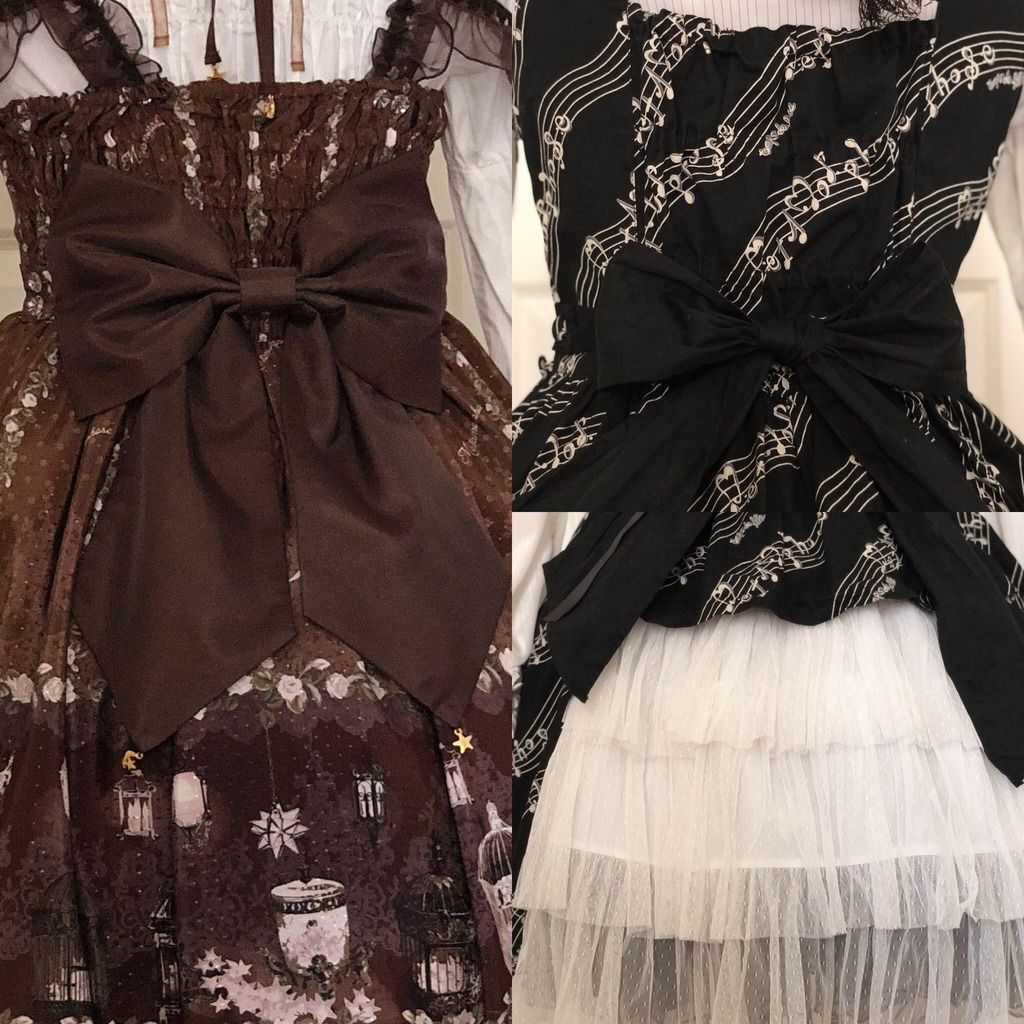 First, the waist tie on the music note jsk is not the original, I changed it up to all black because I thought it looked better and...I'm missing the waistlines. However, the are fairly similar in construction to the black and about the same length they are just matching the jsk fabric and are not solid.
Though I do not own any of Meta's more recent pieces I can say from having modeled for them at Rufflecon 2017 almost all of their dresses waistties were done like music notes. I've also peaked at other new releases I covet (cough cough Magic Stone! Cough cough) and notice they have traditional waistties as well. Regardless, I am definitely in love with the style of the pin back huge bow, heavily interfaced to keep it's crisp appearance, with pins in the center and the edges to attach it to the rouched band that attaches via buttons where a regular waistties would usually go. This, in my opinion, would be a lifesaver in trying to make a perfect bow on one's person.
The back bow of this piece also has moon and star charms at the bottoms. The music note bustle back jsk does not but has layers of pretty dote tulle, perhaps a little too light weight and the bottom layer has no solid white bottom tier, this makes it difficult to wear any other petticoat except a white one, as you can see.
Everything from the fabric used to the design is drastically different though both are still good pieces. I do feel like Star Rose Ribbon is a far more elegant piece at first glance but both can be coordinated to be super elegant and OTT, as I am want to do, and still be worked to be more every day piece.
If you wish to read more from other bloggers who've done this topic, please, check them out in the links below.
Cheers! XOXO