April 12, 2018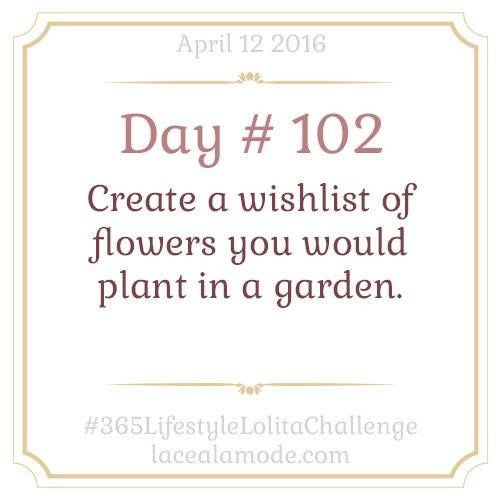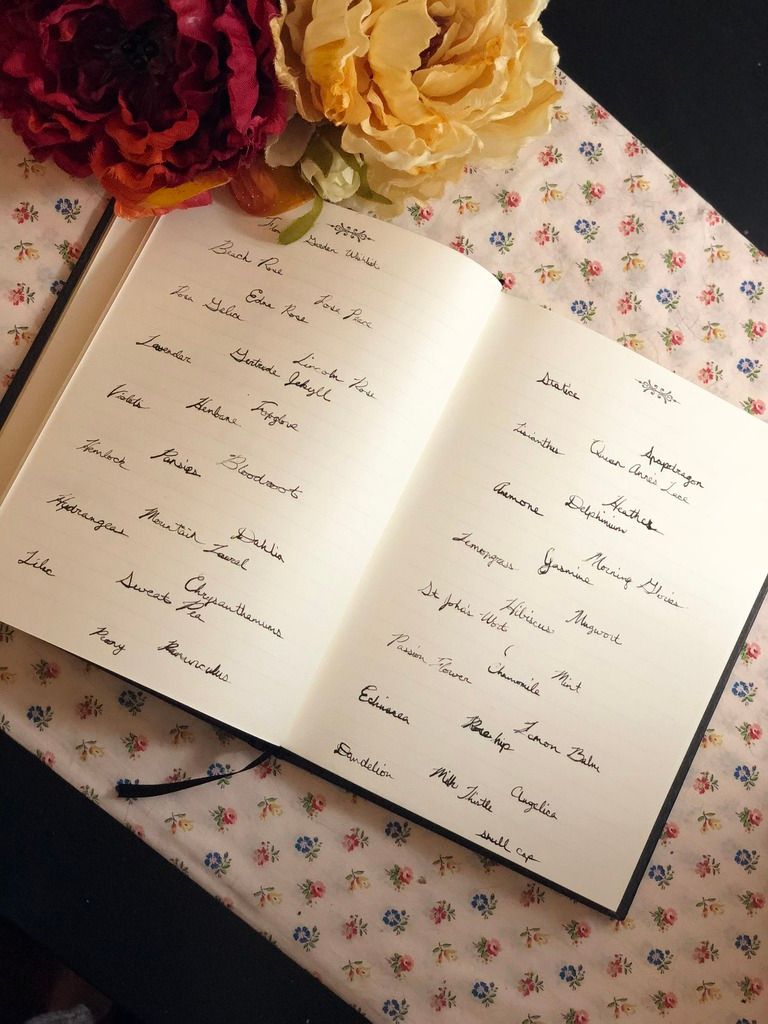 Looking at this photo on my computer and I have to say I'm pretty impressed with how I got the light to hit the pages and flowers. It was all an accident.
Anywho, I grew up helping my mother in the garden and then later the greenhouse she worked in and also her florist work. I've been exposed to many flowers and have long lists of what I'd want to grow in my own personal garden should I get the chance to again. Roses of many different types are on my list, as is lavender, there are quite a few that are edible or good for tea leaves on this list while others I simply find pretty. There are a few pages but these are just two.
April 13, 2018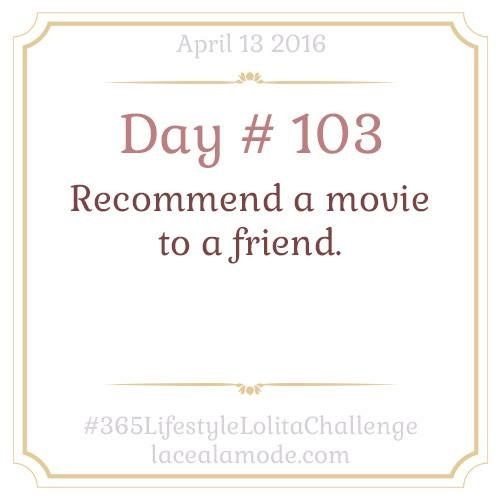 Happy Friday the 13th everyone! It's one of my favorite days to enjoy a little bit of extra creepy in our life (though it's true it's not any different than my usual horror story filled days, if I were to be honest). I whipped out Rosy's Night Masquerade for my daily wear and went about my business watching horror movies or listening to scary narrations as I worked on a witch bonnet commission for another customer.
Speaking of horror movies, I did suggest these two to a two different friends for different reasons. The first was recommended to a friend researching Jekyll and Hyde in cinema and they hadn't seen or heard of the first. It's not as bad as it's been said, too many people expect Julia Roberts to always be this smiley faced woman 24/7 and people shouldn't be confused when she emotes more than happy and angsty in love.
The second I recommended was due to just discovering that Amazon is remaking the story and so I've been talking to a few people about the original, over the last few days it's just been a film I've brought up a bit lately. I've also mentioned the book which I think is pretty good and highly suggest if anyone has a chance to read it. It is all based on an actually on a incident that is said to have occurred in the very setting of the story. I had researched a great deal of paranormal phenomenon in my childhood years and this was one of them. All in all, I highly recommend this film.
April 14, 2018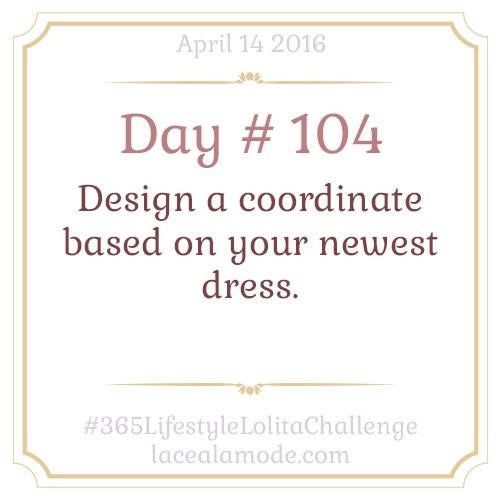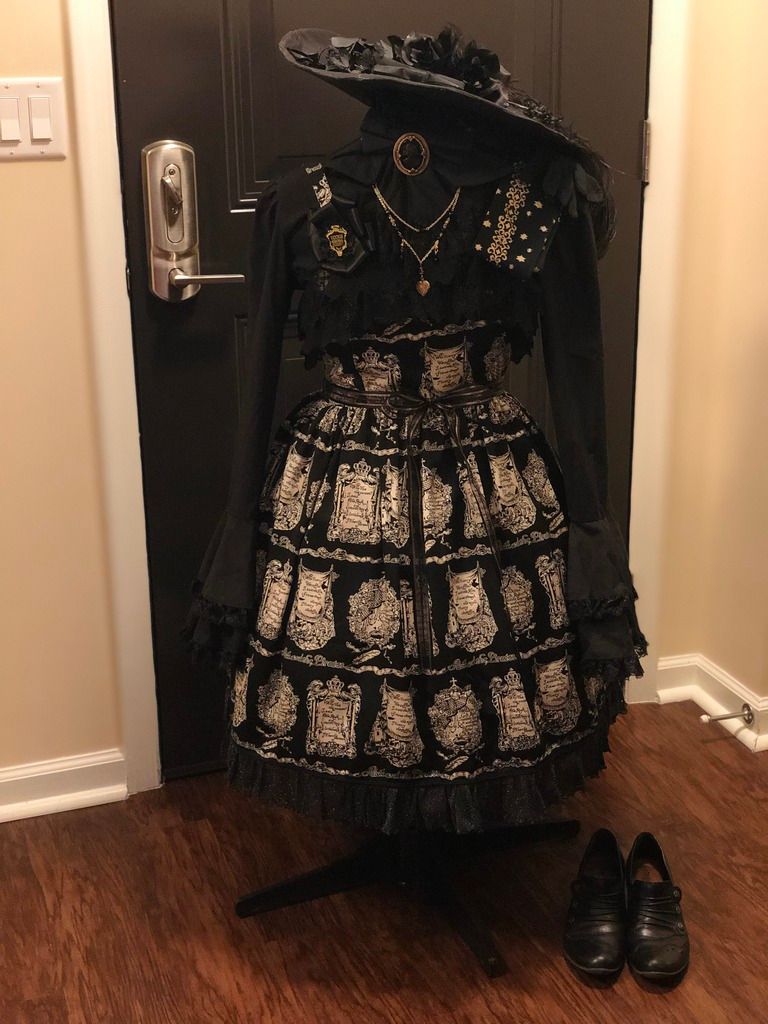 At first I was going to go back and redo a new coordinate for my new Meta piece until I realized I had only just scored this piece! It has been on my dream dress tier wishlist for a while now. It escape me due to poor judgment when it first came out and I had a chance to snag it but I finally found it and at an amazing price for even how much it goes for now. Though it is a nursery rhyme it reminds me of one of my favorite manga stories Godchild when the main character is trying to solve a crime where the children sing the rhyme while playing a game.
At first I was going to pair it with a regency style bonnet with a veil but I thought this one would suit it and I haven't taken it out much recently. I tried to pick up on the gold tones that are actually in the dress and it's ribbon with the gold and black mourning jewelry I added and the Violet Fane Victorian Paranormal Society pin. Everything seemed to play into each other when I threw this coord together and I honestly can't wait to throw it on for some special meet up soon.
I've seemingly played into a lot of darker hues these last few days with horror movie suggestions, gloomy themed cords that play into it's written rhyme, and a few flowers that may be a bit poisonous on my floral wishlist, I think it best to call it a night. Cheers! XOXO