Everyone has that special favorite garment in their wardrobe that really jumps out at them and shouts to be worn, something that has pulled the owner with it's elegant effervescence that surrounds the garment. With everything that is created in this fashion it's honestly unsurprising that there is a garment that attracts someone to it. For this prompt we are going to focus on one of these particular very garments that catch our eyes for this weeks Lolita Blog Carnival.
It wasn't easy to properly evaluate which of my garments is my favorite or the first to garner my attention as I opened my wardrobe, every piece has such intriguing little details put into them. When I opened my wardrobe door I was already distracted by little details of almost every piece, I had to grab and run before I changed my mind. I could easily regale you with my love of Fairy Gardens from Triple Fortune but I feel like I may have tired everyone's eyes out with words and pictures of it but I haven't grown tired of it yet. Another of my top favorites (I will not apologize for not being able to choose between these pieces!) is Tea Time Nostalgia from Alice and the Pirates but I'm going to reserve that for later with a comparison post of something I am FINALLY getting in the mail today (I am breathing a sigh of relief and jumping in exultation over it coming in, I can't wait!!!!)!
So after my eyes darting back and forth between a few more that I could choose from I was drawn to my Fragrant Rose Memories Camelot jsk in mint.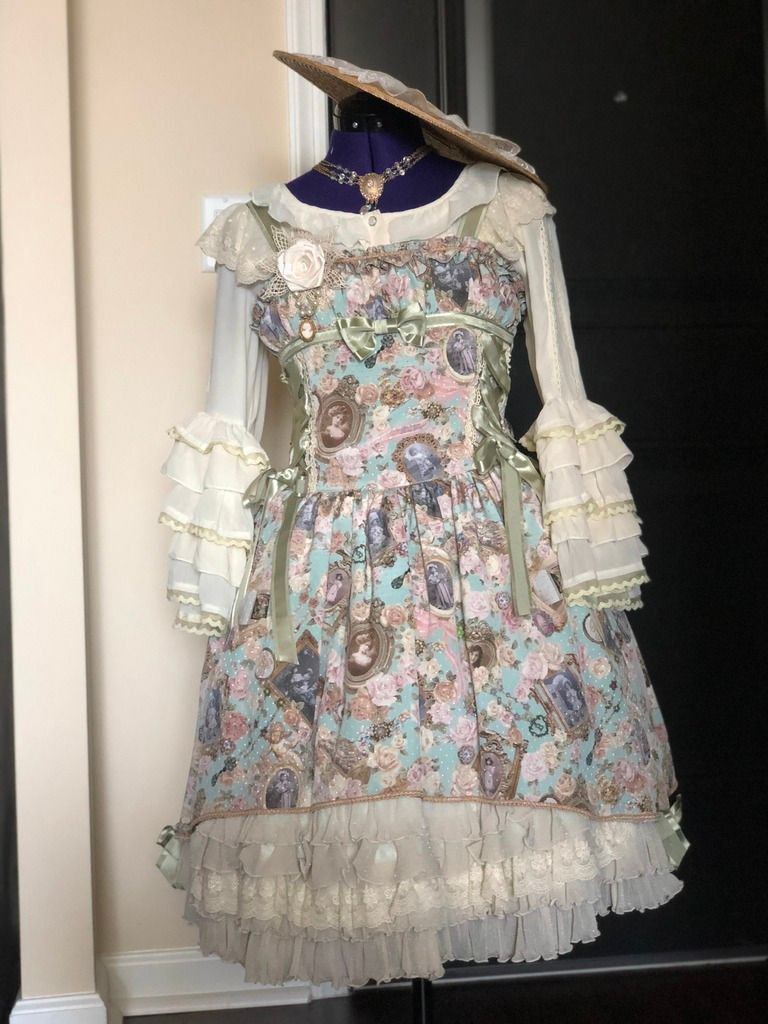 There are so many things that catch my attention, the fabric has dotting going the course of it's length in the same color, giving it a slight sparkle to it. As well as that certain dotted sparkle the colors used in the print are as well, lustrous jewelry glitter through the print with aurora borealis stones in their antique settings interspersed between the roses, ribbons, books, and miniature portraits in their gilded frames. There are cameos that are done in darker colors then usual that are clearly meant to balance the greens and purples of the jewels and the gold of the cherub figurines.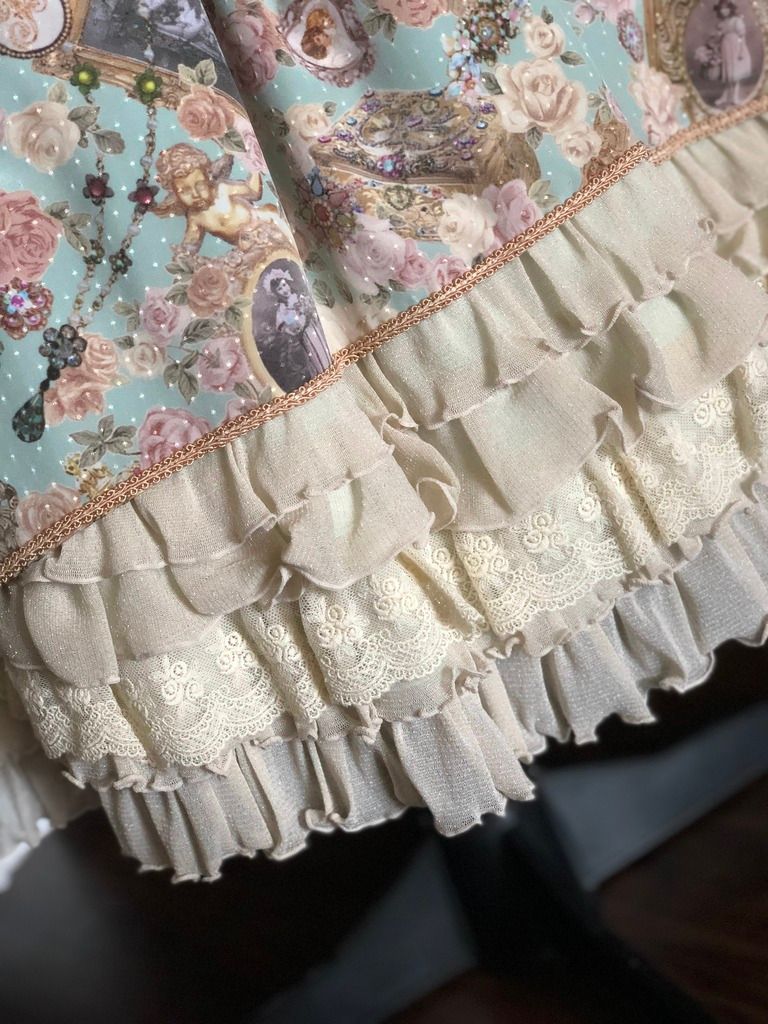 The lace and trim is so lovely with pretty rose trim both at the straps and below the inverted scallop between the ruffle edge fabric that is woven with sparkly threads. It also utilizes a scalloped rose trim to weave it's green ribbon through the front sides and the back, as the corset lacing.
I haven't seen much else like this particular dress since, nothing that has caught my attention quite like this, the cut is something that really jumped out at me when it first came out and the print was something I knew even then that I would really love to have in my closet.
If you want to read about what grabs the attention of other fellow frillies for this blog post check their posts out in the links below.