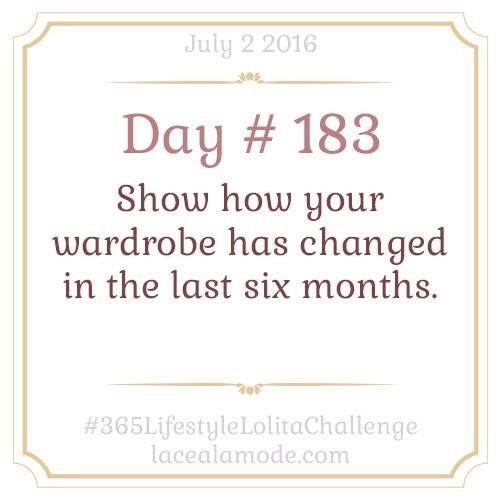 These were actually trades from the mini~mega meet we had at the beginning of the year, I had gotten a pair of socks and a few other blouses too. Almost all traded and the only thing I think I didn't trade for was one cheap blouse and a pair of socks. All good finds.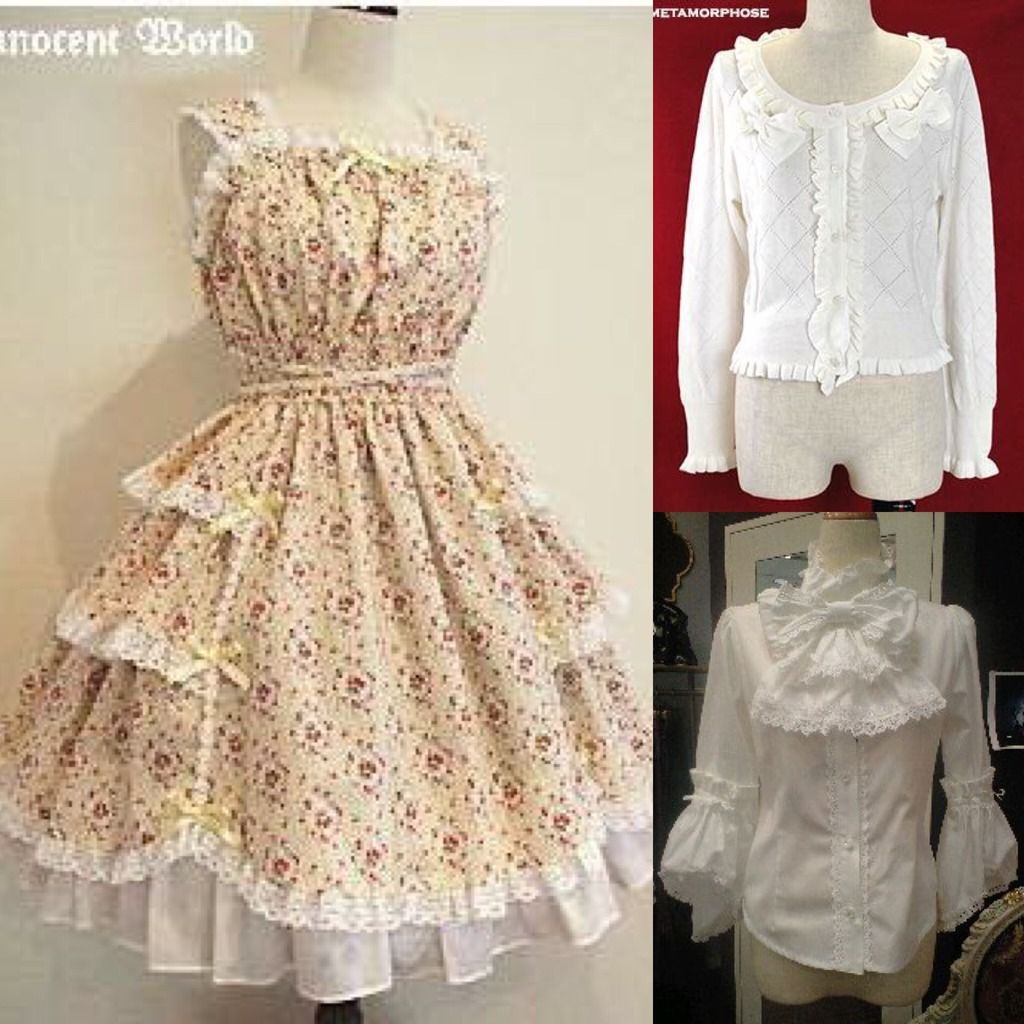 These are another 3 of my scores and from around the last few months, I still can't believe how low they were all going for and managed to act fast. The blouses are from the same seller and the jsk was local, and both were looking to move things out of their wardrobe.
These two are special to me for several reasons besides just really wanting them, the Star Ribbon jsk I bought on the last day Tokyo Rebel was open in the physical store. I had really wanted it and was hoping to get a chance to pick it up after the going away tea party. Funny enough the Sakura tea time jsk is also my last reservation I made with Bradbury NYC, we all know why I would want this piece I am sure, I just have to have my tea prints and this one is very lovely.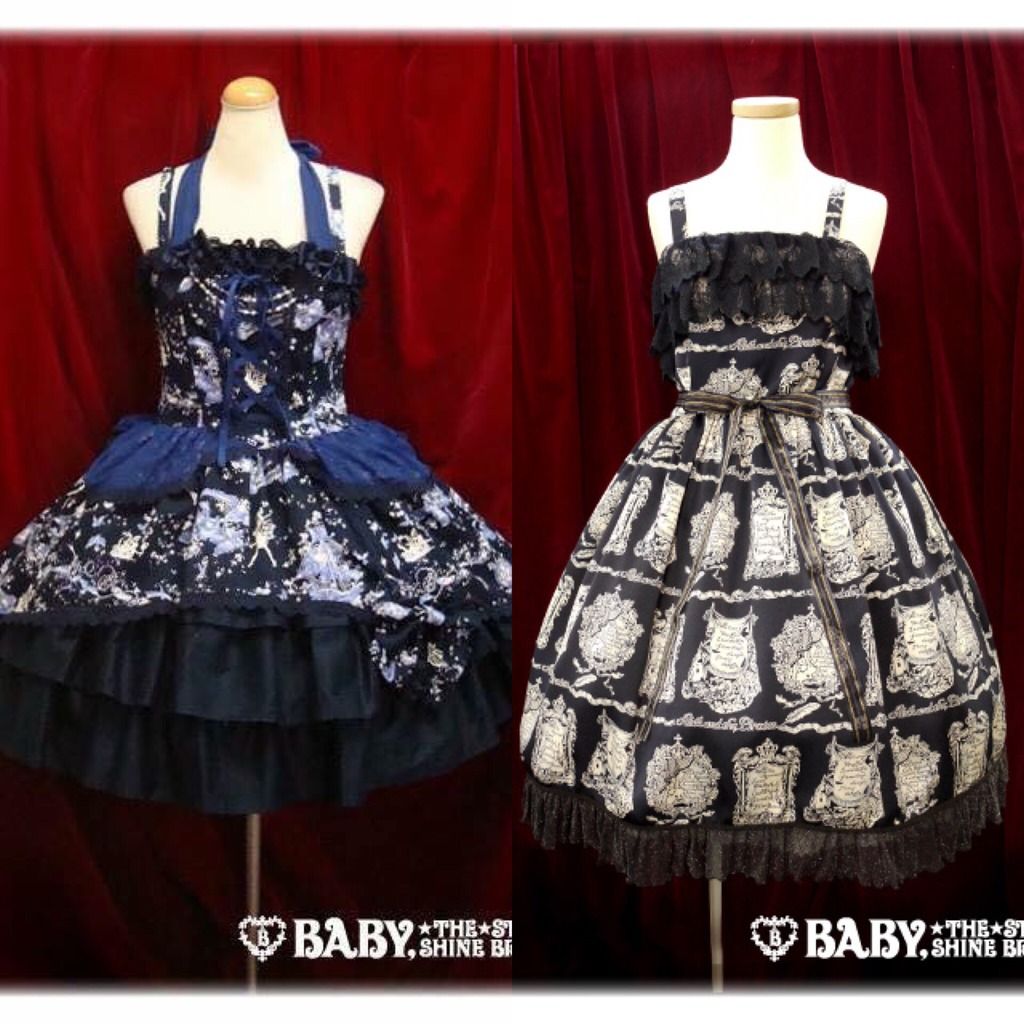 I FINALLY HAVE THEM!!! These two pieces have been apart of my hopes and dream dress wishes since I first laid eyes on them. I wish I had purchased them both when I first saw them but the mother goose jsk was one I had somehow let myself be talked out of for something I do kind of regret buying. If I could do it all over again I would stick to my guns (why was I so flip~floppy?!). But now I am so very happy that I did get it for a VERY reasonable price. Night Fairy Fantasia in Navy now completes my set of having all four colorways in (two in jsk I and two in jsk II). The only thing which I'm regretting about this...is that the listing never mentioned it was missing pieces and so the seller is not responsive there is nothing I can do to get them. We'll see what to do about that in a little bit.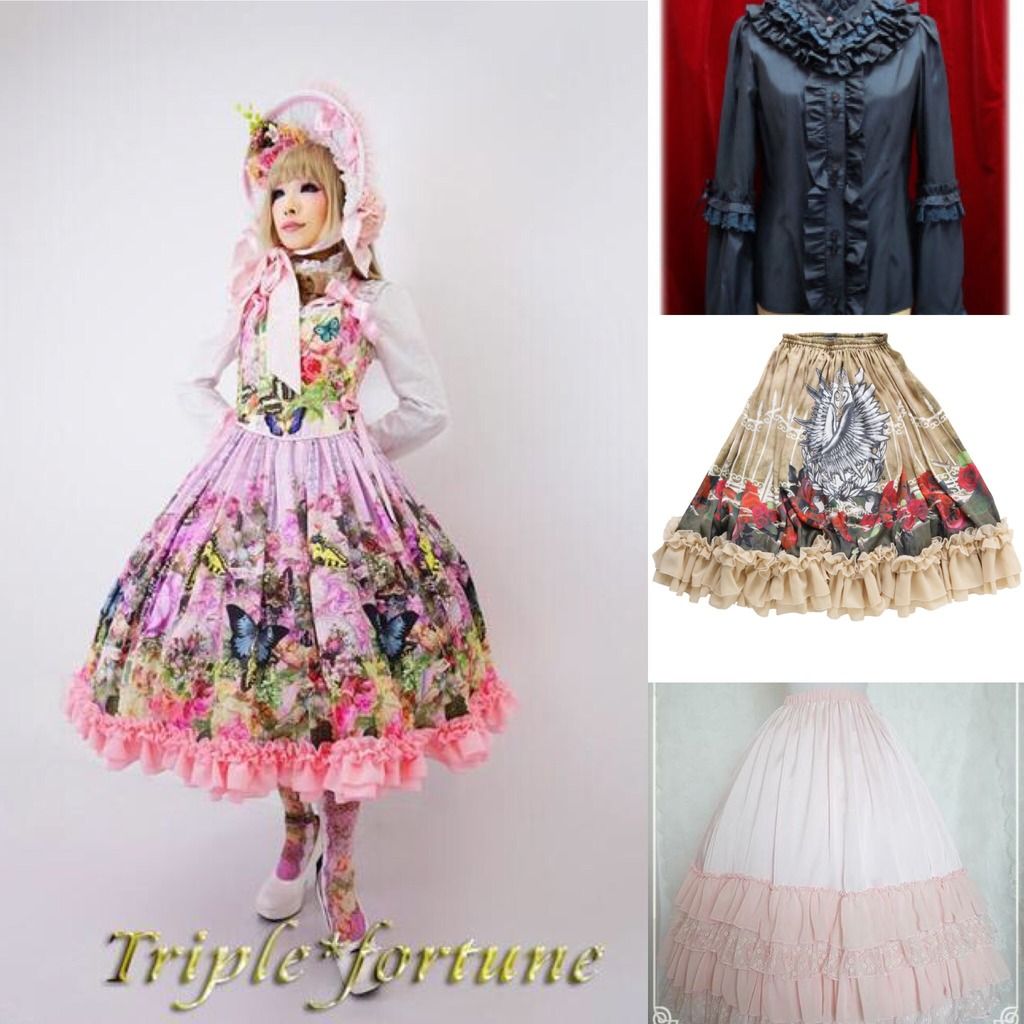 Another FINALLY I HAVE YOU moment is the a few Triple Fortune things I have had on my wishlist for a while. The Middle Earth skirt and corset, which came along with the navy blouse, was the very first Triple Fortune piece I ever got to wear. I wore it in the first fashion show for them at the very first Rufflecon and I wanted it from then. Both only that but in a trade I got the other Triple Fortune dress which my friend, from my home comm, had modeled in the same show. I feel quite a bit of nostalgia from these pieces and feel so lucky to have gotten them. And the last is simply the second most recent, right before the 3F skirt and corset, I got that from a friend as I needed a pink underskirt.
Moral of this story, Lolita fashion is life. I did get rid of a small amount of things which is something I've never done before, though I think after reviewing all of my lucky finds and trades it may be time to send off just a few more.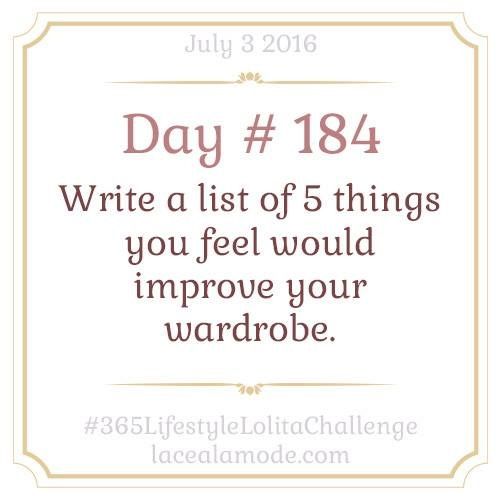 It's clear that I have an addiction to frills and don't often get rid of them, I've been taking measures more recently to focus what I put in, I have kept my hands off the more Sweet pieces and been trying to kon mari the ones that I
feel don't suit me out. But one thing I definitely feel I need to improve my wardrobe space, first and foremost, is more space. That and could use more things to organize everything.
<3 More Legwear <3
Legwear from ankle socks, otks, and patterned tights, if I could just get a bit more or make more I could really help grow my wardrobe.
I'm really happy how this vest came out...now I need it in 5 more colors.
Vests would be another great addition as I've been slowly building a skirt section to my wardrobe. It's weird for me and I feel I need that extra later up top and rather enjoy the look of it. So more of those would be nice.
These are actually a design for my brand.
It would be nice to make or find more pieces to fill up and be able to change up looks with. I do have a small collection of pieces but I feel I'm lacking, particularly in the bracelet department.
I really should make more for both me and some for the shop.
I need more headbows that are a bit more classically styled, I find I can't get into the head eating now look but adore the delicate smaller ones that I don't have to fight my hair too much to wear. I should just make a bunch in all the colors to better mix into daily wear. I usually wear hats when I go out but the instance I come home the hat comes off and I feel like I'm missing something, putting small bow clips in my hair just doesn't suffice.
This was a bitter~sweet post for me, going back to Egl and trekking through the old meet up photos, it's been a while looking at those in particular. When I first started navigating I was surprised to see that some people were actively posting, once girl has been consistant since the days of Egl yore even. A few of the Swiss comm meets have been posted over the years, a sort of annual event, and it seems lovely from all the pics I can see. Seeing other comms from the world over does still make me wonder what it would be like to visit, meet others with the same interest from another continent. I think it would be lovely actually.
*****************
*****************
*********************
I'm sorry if this post is weird, I seem to have been experiencing technical difficulties with my Blogger. I don't know what's wrong exactly so I'm hoping it will sort itself out in the next post. Well, I need to be off anyway, I'm down to the dregs of my tea and should wash up the pot and get to bed. Cheers! XOXO!