As many have been hearing me say/sing over the last few days that this is the most wonderful time of the year. I was thankfully born and raised in a part of the world that had a decent Fall season and enjoyed every moment of it. Having moved further down south is a bit of a sad change it makes me miss it more; thankfully, I've been doing a few coord challenges recently that feature fall and all of the spooktacular parts that come with it (one for the 365 LLC,
here
). I did this one the other day for my own particular challenge of a months worth of coordinates being spooky or fall themed, I wanted to change up this one's look completely and ended up with what I feel is a nice blend of both.
It gives a little feel of the spooky with it's macabre print, and strangely what looks to me like what a Victorian era undertaker vibe, and then pulls in the fall look with it's color combos in a way that kind of sticks out to me. The browns are a few different shades in the dress, playing into a sort of dusty purple and rose color group and smatterings of red, being brought out by the print of the socks and the red ribbon of the hat (which looks a bit grey/black here but I swear it is brown). This is not quite where I thought I was going to go with this look but I honestly like how it turned out and how it also is an entirely different look then the coordinates I've made with it previously.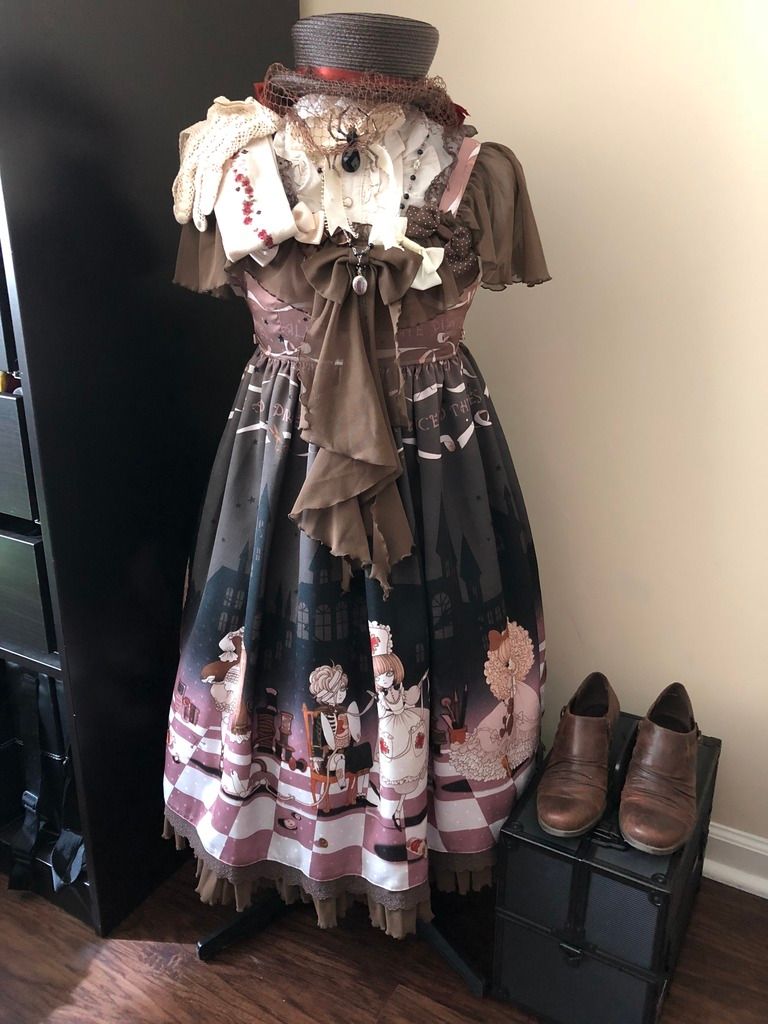 <3 Coord Rundown <3
<3 Jsk: Alice and the Pirates
<3 Necklace/Blouse: The Bloody Tea Party
<3 Hat/Gloves: Antique
<3 Spider Broach/Shoes: Off brand
If you wish to check out what others have done for this particular topic you can check them out in the links below! And don't forget to check out the facebook group,
here
, if you are looking to join in on the fun. You simply need to answer the prompt that pops up sending us your blog to review.